Heat treatment department
Our heat treatment department enables us to perform the process required in the connectors industry:
Hardening
Batch annealing
Zone annealing
Vision 100% control department
Sensitive turned parts are subject to 100% fully automated final inspection & sorting by camera. Thus we can guaranty the best quality products delivery.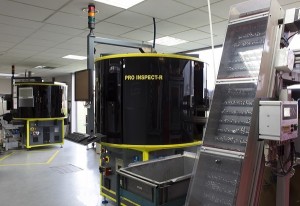 Surface treatment services
Our geographical position in the heart of the Machining Valley enabled us to set up strong relationships with local proven suppliers specialized in plating operations.
Polishing department
For special purposes, AMD has developped its own Polishing department and is able to guaranty high surface quality such as mirror finishing.
Tribofinishing department
To meet customer's quality standards in the fields of visual quality and finish.
Assembly department
AMD provides assembly operations for both connectors and automotive markets.