Connector manufacturers, Electonic Embedded systems and e-Mobility OEMs are looking for partners dedicated to project idustrialisation.
Founded in 1978, AMD Décolletage is one of the key players in the field of turned part industry in the Vallée de l'Arve (France). Originally, the company has started the manufacturing of precision screw machined parts for the connectors industry.
In the same time AMD Décolletage has continued to grow, in successive leaps and bounds, by developing its expertise in high precision turning for CONNECTOR, AUTOMOTIVE, e-MOBILITY and INDUSTRIAL sectors. Our clients are world leader connector manufacturer, or OEM and Tier 1 companies operating worldwilde.
Our quality management system complies with client' requirement and standards: ISO 9001 / IATF 16949 / ISO 14001. Furthermore we developed our competences within a 4.0 manufacturing process and commit to respect the environnement.
We keep moving and developing our company in order to leverage the Know How in different applications and markets aiming to deliver high value components and assemblies to its customers.
From Design to Manufacturing : 5 steps project management (PM) service
Our clients ask us to support their industrialisation and production from design up to series production. on a daily basis, they have custom requirements to meet and we support thier decision by sharing our know how and expérience throught a 5 steps project managment process.
To simplify client project managment from design to manufacturing, we offer a 5 steps work flow service:
Design Review:

Send project description, drawings and 3d files
Visio call to reveiw together your demand and phase our agenda
Internal feasability and budget analysis
Budgetary offer

Prototype

To run your test , you place a prototype order
"Lesson / learn" approach (loop) to finalize the design as per your requirements

PPAP & Qualification

You run your test to qualify the designed part
We offer a PPAP service (option on demand)

Ramp Up production

Cost/Lead Time/Cost analysis review to meet your objective
Manufacturing means are adapted to your ramp up curve
We study industrial investment to automatised large production volume

Serie Manufacturing

Annual or multi-annual production service contract agreement signed
Production order is launch in regards with your annual needs
Logistic services is adapted to your request : wordwilde delivery service
e-Mobility interconnections : high precision and custom solution needed !
Since 2010, Electric Vehicle (EV) manufacturer and OEMs are working on electrification projects and new products. We have been supporting their design team to meet the technical requirement and develop solution industrialize new terminals and sockets.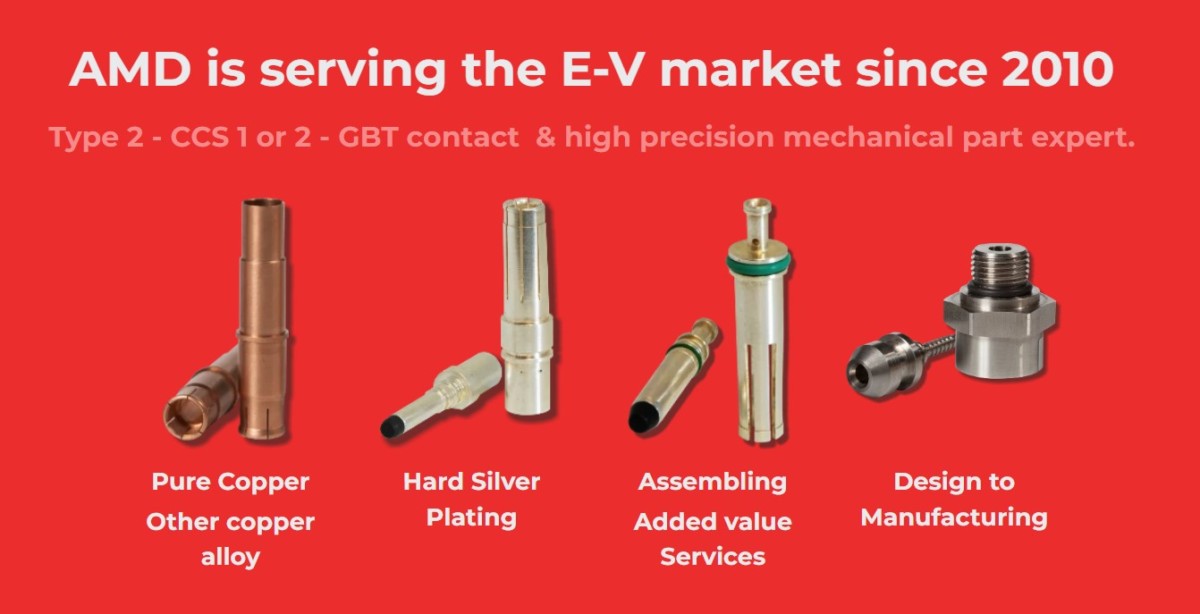 Everyday you are charging your EV (electrical vehicle), you are certainly using a AMD contact and you are probalbly using Type 2, CCS 1 & 2 and GBT standard charging plug.
You have a new project?
If the summer break have lighted up new project ; or, if you are looking forward to industrialize your electrification products.
Feel free to contact us to open technical review and to organize a call.
#Mobiliy #Energy #Connectic #Industry #Aerospace #HomeAutomation #eBike #evehicule